We're really excited to announce that we've been accepted into the Green Web Foundation as a certified partner. This means we're now one of only three web design agencies in the UK offering their certified green hosting, along with our other climate positive activities.
The Green Web Foundation are a not-for-profit organisation that was founded in 2006. Based in the Netherlands, the Green Web Foundation are the world's leading authority on sustainable web design and are helping steer the internet towards a greener future.
We're always looking to push the boundaries of web design and our agency is motivated by projects and initiatives that tackle climate change. Towards the end of 2020, we became a climate positive workforce and regularly offset the carbon emissions of our business and staff. The Green Web Foundation is a project that we want to support and we're excited to offer unique services through this partnership.
Generally, people are becoming more and more aware of climate change and the impact our activities have on the environment. We've seen an increasing demand for sustainable web design services and green hosting over the last few years – this trend looks to continue and we're happy to help our clients improve their green credentials in any way we can.
Our certified green hosting is verified through the Green Web Foundation and clients who make the switch will be given a badge which can be shared on their website or in other places such as marketing materials and email signatures. As you'd expect, our own website uses certified green hosting, so here's our badge below.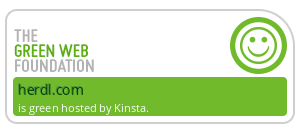 If you're looking to improve your own green credentials through green hosting or sustainable web design then
please get in touch
for more information.