Genesis
Genesis is a fast-food vegan restaurant in Shoreditch, London that serves a 100% plant-based menu. Inspired by their extensive travels, the restaurant concept brings together a heavenly selection of vegan delicacies from around the world. We worked with the team behind this award-winning restaurant to create a website and brand that would match up to this iconic vision.
GENESIS
The team behind Genesis originally approached us after seeing another site we produced for Two Chimps Coffee. They were impressed by the speed and overall UX of the site and felt that the illustration and animation style would align well with their vision.
Throughout the project, Genesis put their trust in us, giving us full creative license to fulfil their brief, and they were delighted with what we delivered. The site went on to become our most awarded and recognised project to date with the highest accreditations from Awwwards, CSS Design Awards and Site Inspire to name a few!
THE BRAND
We designed the website in black and white to make it visually striking and create a distinctive style that would feel recognizable and unique. Our vision always involved a lot of animation work, so we refrained from bringing in colour which we felt might distract from the experience.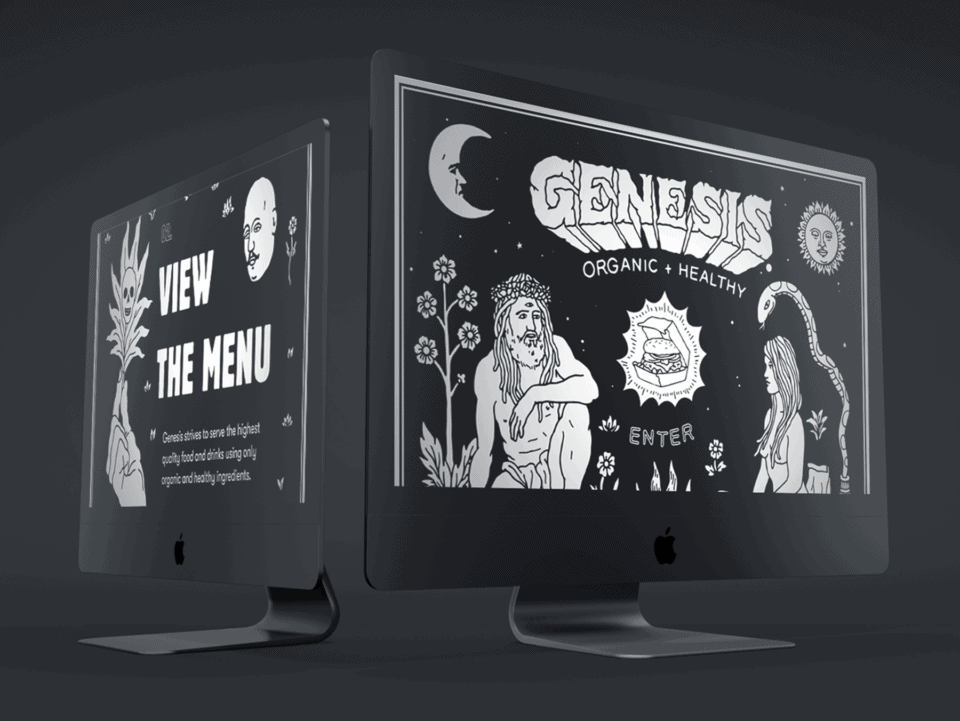 Multi-Award Winning
Web Design
We were given full creative license with the Genesis brand to create a digital experience that created intrigue and tantalised potential customers. The whole design relied heavily on bol illustrations and fluid animations which brought the whole experience to life.
The cutting-edge digital experience that we created didn't go unnoticed. The site went on to win almost every award possible in the web design industry. Some of the awards that we're most proud of are Site of The Day on Awwwards, Developer Award on Awwwards, Site of the Day on CSS Design Awards and a feature on Site Inspire.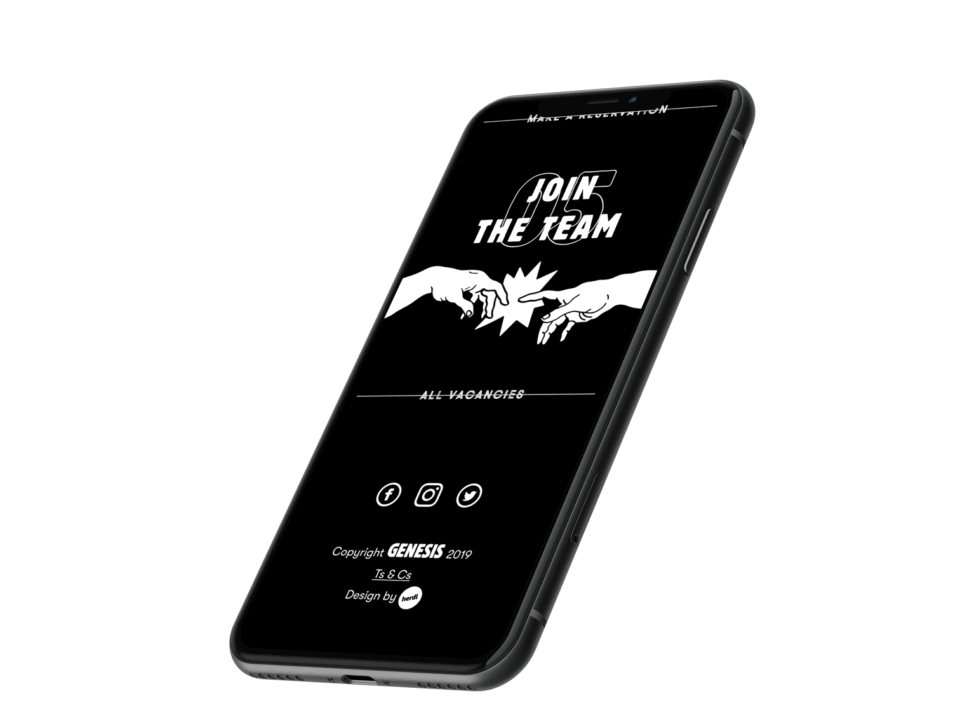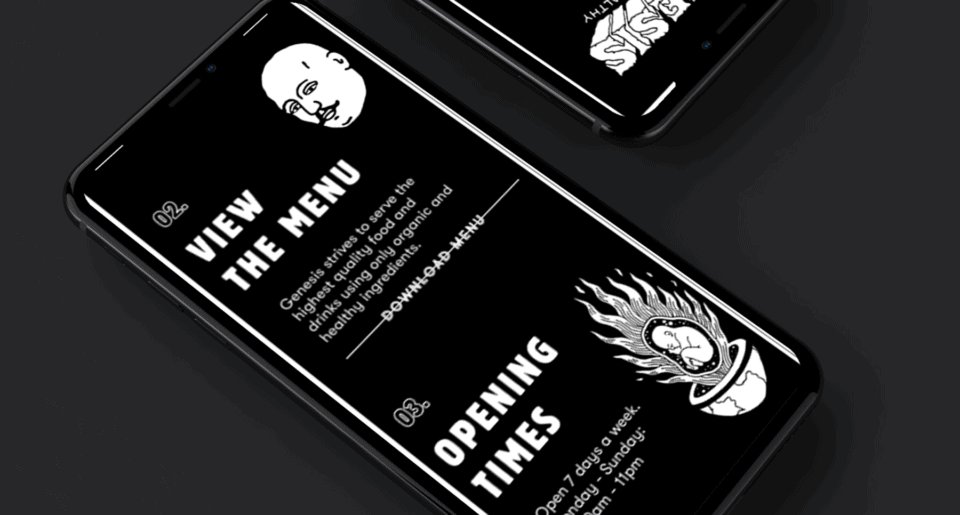 Iconic
Illustration & Animation
We developed our own concept for the Genesis visuals by creating vector illustrations that could translate digitally. Utilising the religious and mythical elements of the brand assets available, we produced a creative direction based on iconography and abstract visualisations.
The animation was equally important, and allowed us to convey meaning and allude to the many references we drew from in a more interactive way. Drawing on the biblical connotations of "a light unto nations", taken from Genesis's brand document, we created a sequential animation that delivers a literal interpretation of this statement. We designed a scene that would "light up" and reveal iconic elementsdepicting the Garden of Eden. Here, the forbidden fruit is replaced with an easily recognizable symbol of fast food – a burger.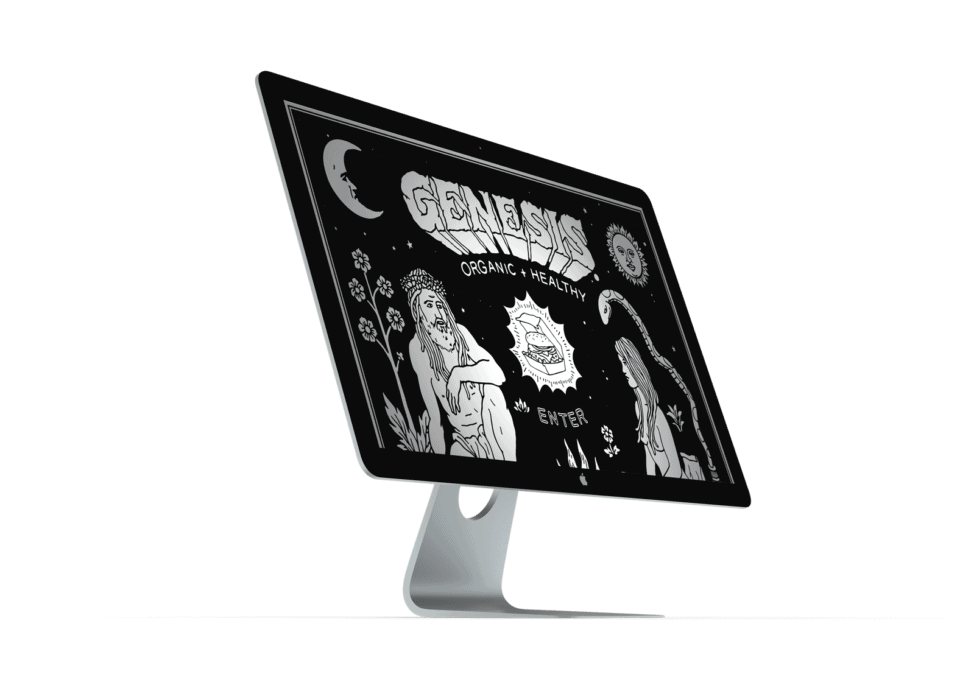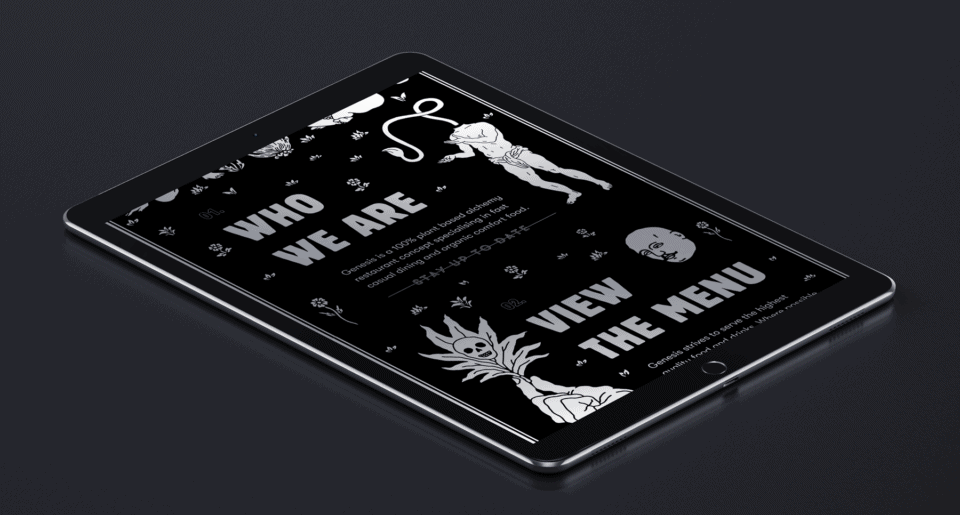 EXCELLENT
" Since working with Sam & Ged we have been nothing but grateful and impressed. We cannot thank them enough and highly recommend Herdl for anyone looking for a great website & excellent customer service. "
James Pears - Co Founder of Genesis
Ready to discuss your project?
We'd love to hear about your project. Get in touch and enjoy an awesome cup of (vegan) coffee with us.
Make the
Leap

.

Leicester

4 PASS COURTYARD,
ASHBY DE LA ZOUCH,
LE65 1AG, LEICESTER, UK

0116 3400 442

Nottingham

UNIT 5 COBDEN CHAMBERS,
PELHAM STREET,
NG1 2ED,
NOTTINGHAM, UK

0115 9902 442

London

4TH FLOOR, SILVERSTREAM HOUSE,
45 FITZROY STREET,
W1T 6EB, LONDON, UK

0208 0500 442

Email